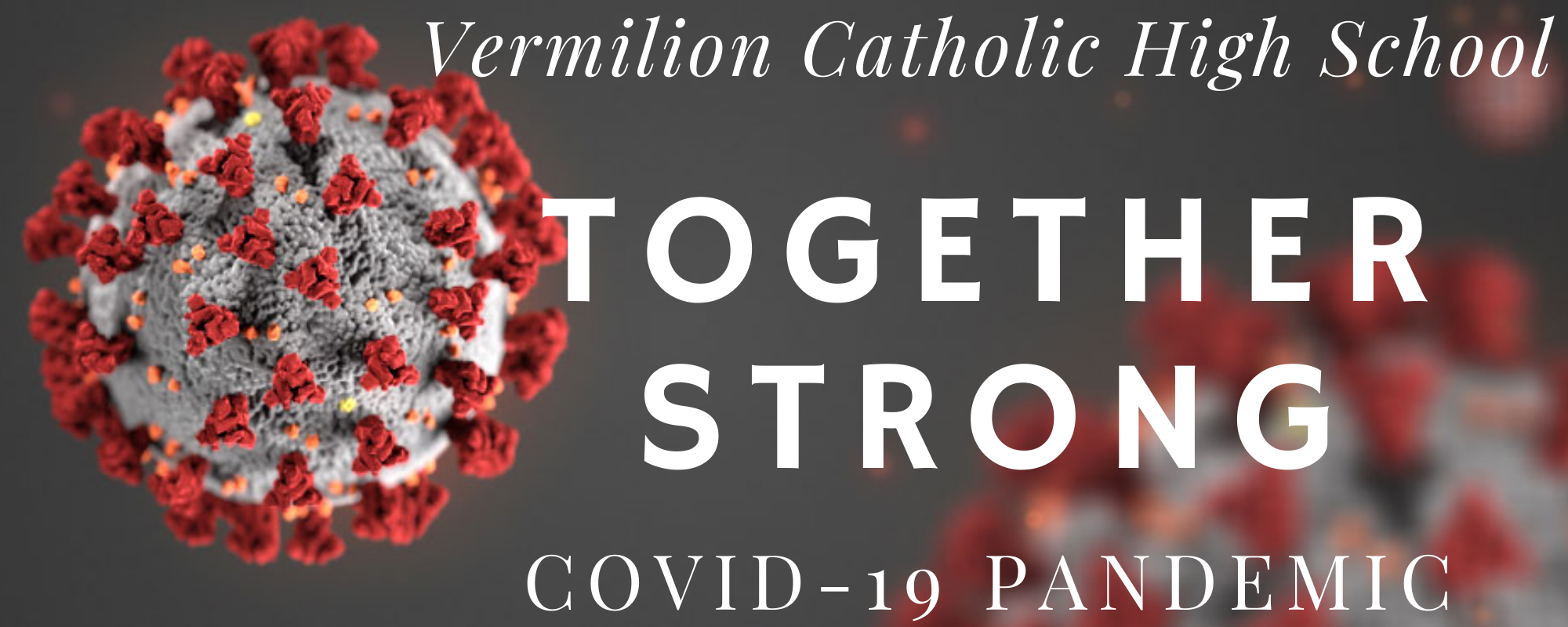 Dear parents and students,
As you are aware, we are closely following the requirements of the Office of Catholic Schools of the Diocese of Lafayette, under the advice of the CDC and the Governor's office, regarding procedures for COVID-19. Following mandates, we are temporarily closing the school as a strategy to stop or slow the further spread of the virus. At this time, our current closure will last through April 13, 2020, with plans to return to school on Tuesday, April 14, 2020. Parents who have pre-existing trips should request an Anticipated Absence by sending an email to mikeguilbeaux@vermilioncatholic.com.
Students who were absent when the closure was announced may come to school on Wednesday, March 18th to retrieve items they need. Please see Mr. Guilbeaux or Mrs. Cheryl between the hours of 9:00-11:00.
Additionally, all athletic events/practices and meetings/banquets, extracurricular activities of any sort, etc. will be postponed until further notice. Coaches and club moderators will be in contact regarding specific directions and expectations for their members during this time. State Rally has been canceled, as has the April 4th ACT test date (NOTE: We will use Pre-ACT scores where applicable for initial course placement next year). Should any additional changes arise, we will make announcements via our usual channels: email, social media, and news outlets.
At Vermilion Catholic, we are fortunate to be in a position where distance learning can and will continue! Our focus will be on continued learning and communication via email, RenWeb, Google Classroom, etc. Our Chromebook programs have prepared all students and teachers for online work and will be leveraged for learning to continue at home. Beginning Monday, March 23rd, online classes will begin. For this method of instruction to be successful, students must adhere to the following expectations:
Student Expectations:
Effective communication with your teachers must be practiced. If you have any questions, problems, or concerns, you must communicate those with your teachers. They are here to help with anything you need.
The following should be checked daily for updates: VC Email, VC Website, Google Classroom, Moodle (if applicable), and RenWeb.
Adhere to the VC Student Code of Conduct. Cheating/Plagiarism is unacceptable and students will receive a "zero" if found in violation.
In general, students will be required to check previously established online platforms for each class, such as Google Classroom, Moodle and RenWeb. These platforms can be accessed through any device with a browser, including Chromebooks, laptops, desktops, PlayStations, XBoxes, tablets, smartphones.
Teachers will also post lesson plans through RenWeb and Google Classroom and send weekly overviews to both parents and students. By continuing our standard practice and increasing parent involvement in communication, we will work to maintain our level of academic excellence for all students even though we cannot meet face-to-face. Learning for every student will continue, just in a different way.
Vermilion Catholic is also paying close attention to our student's spiritual needs during this trying time. This is a unique time in history. In South Louisiana, where our culture thrives on faith, family, and food, our community is being challenged to respond to this worldwide epidemic in a way that goes against our very nature. People of all ages are experiencing anxiety and fear while also having to accept extreme measures of mitigation in an effort to "flatten the curve." Our utmost concern at this time is our community, the VC family. As of recent, the Bishop has mandated that we not attend public Masses through April 13. During a time like this, it is very important that we allow God into our fear and our sense of not having control and become more diligent in our prayer and practice of spiritual communion. There are many options for this and it is my hope that you and your children will join us in this practice. The following resources will help to guide you through the process:
An Act of Spiritual Communion:

https://www.google.com/amp/s/aleteia.org/2018/09/20/cant-receive-the-eucharist-heres-how-to-make-a-spiritual-communion/amp/

Daily Readings:

http://www.usccb.org/bible/readings/031620.cfm
In addition, the iOS apps called Laudate and iMissal are also incredibly full of Catholic prayers. Daily readings, etc. Please consider establishing a routine of prayer and reflection during the weeks ahead. We are still called to keep holy the Lord's Day even when the Church doors have been closed. There are many Sunday and weekday Masses at the Cathedral and in our own parish at St. Mary Magdalen being aired/recorded via social media and various websites. I hope that your families know of our fervent prayers for each of you during this challenging time in history.
While this is not a situation that any of us could have anticipated, the faculty and staff at Vermilion Catholic are committed to providing an advanced level of support to all students and their families. Please contact us directly if you have any questions or need assistance. We will work together to get through this national state of emergency by utilizing the tools that we are blessed to have at VC and in the 21st century.
In addition, several internet service providers are offering free and/or low-cost Internet access due to this situation.
These include:
https://www.cox.com/residential/internet/connect2compete.html (Cox)
https://internetessentials.com/ (Comcast)
AT&T is waiving data overages for those who must use their hotspots
Students in need of ANY technical support can email benharrington@vermilioncatholic.com at any time.
Thank you in advance for your support, patience, and communication. Vermilion Catholic will continue to provide an environment of Catholic faith and family that comes together in times of need. Please keep everyone in your thoughts and prayers during this trying time. We are here for you and will get through this together.
Sincerely,
Vermilion Catholic Administration